Dura Trac Farrowing Floors are 100% Plastisol Coated
Dura Trac farrowing floors are designed for traction and the prevention of flooring related injuries. In addition, all Dura Trac metal flooring is completely plastisol (poly-vinyl) coated. This coating ensures the floors will never be any colder than the temperature in the room. Also, the mesh allows for urine and feces to filter through to the gutter below. Therefore, Dura Trac floors are quick and easy to clean which aides in minimizing bacteria buildup.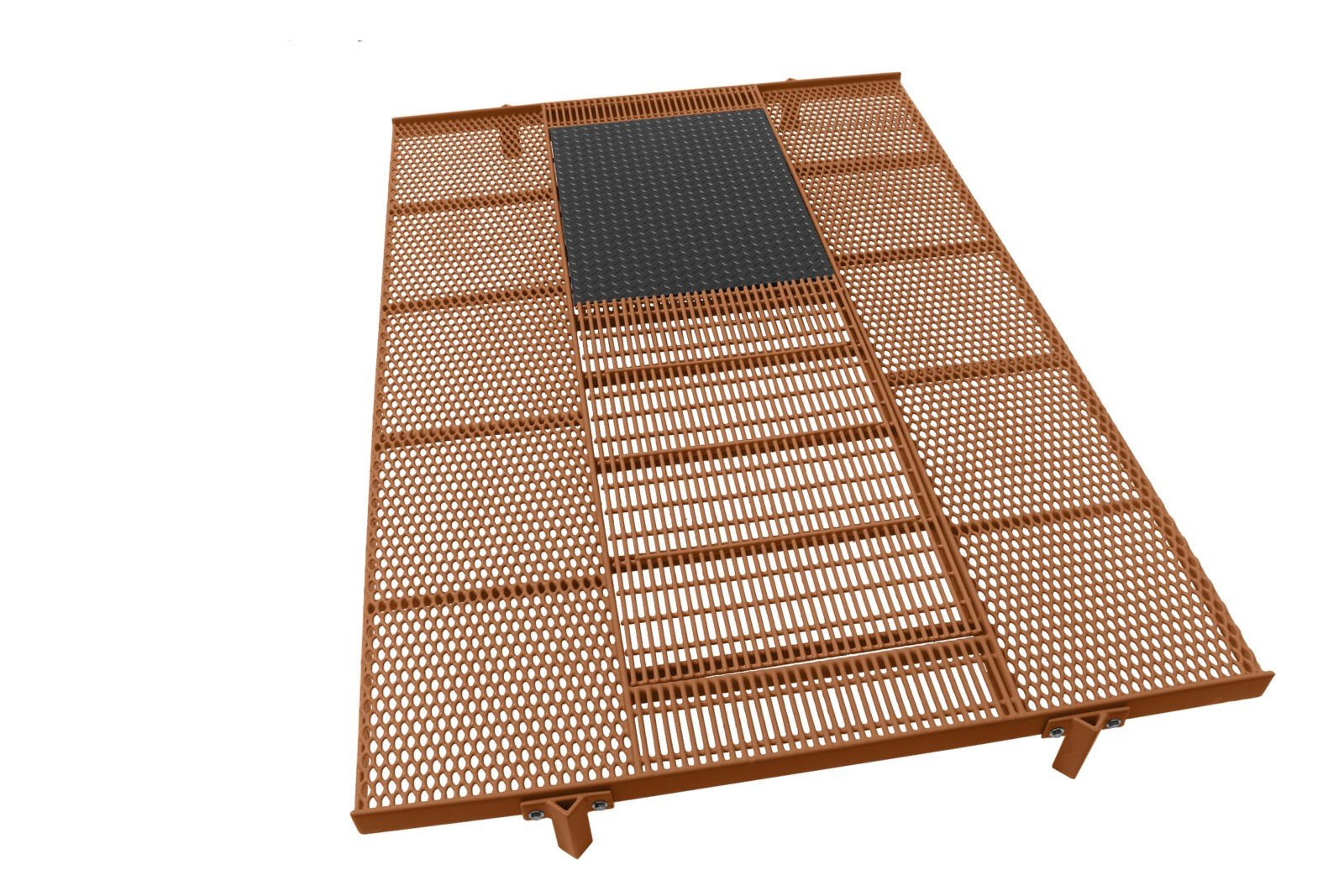 Farrowing Floors with Clearspan Support
The Dura Trac Clearspan Farrow floor is entirely self-supported, therefore, no additional support is necessary. It features a two-level construction. Not only does the 1-inch center rise reduce crushing, but it also allows the newborns easier access to underside nipples. In addition, the 24-inch wide center sow area is wide enough for the sow, but not so wide to lose the advantage of the raised center. Furthermore, the wear areas are kept small and replaceable for minimal maintenance costs. As an example, the image below (left) shows the Clearspan Farrow Complete. This floor includes the basic unit, a welded rod sow section, and a Dura Saver feed saver. Additionally, the Clearspan legs are a great option for those who want the flooring elevated higher above the alleyway.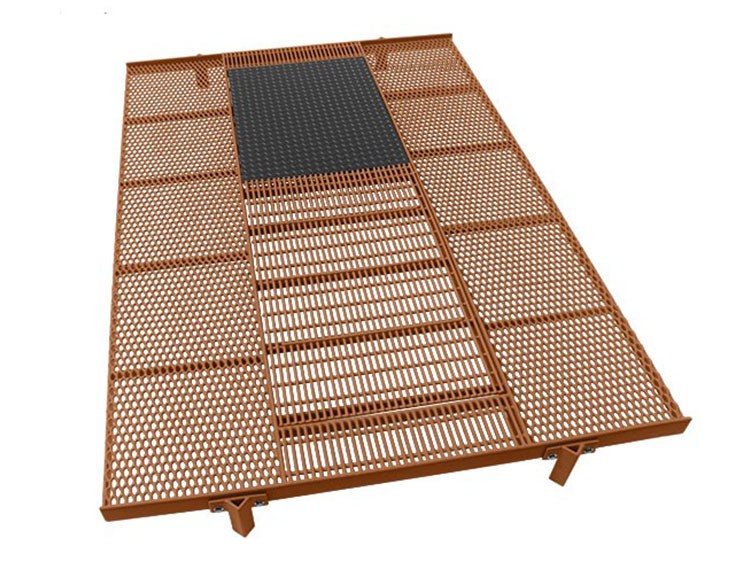 Clearspan Farrow Complete with Sow Section and Dura Saver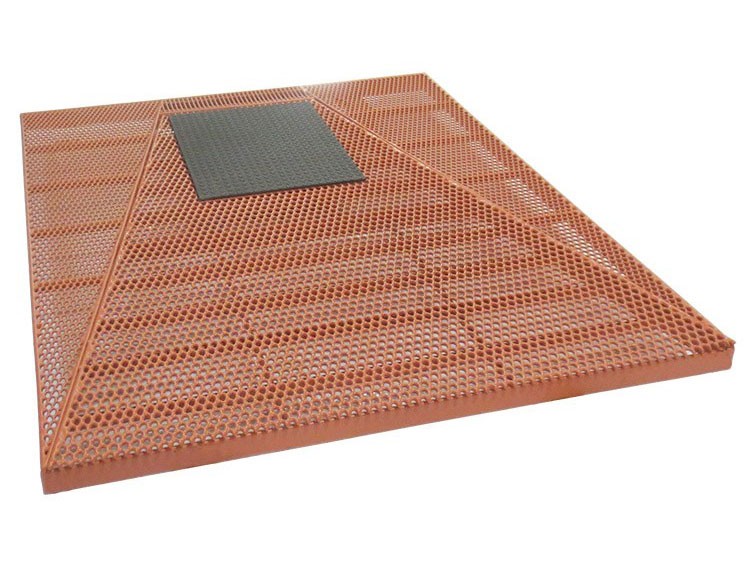 Clearspan Farrow Expanded for Turn Around Crates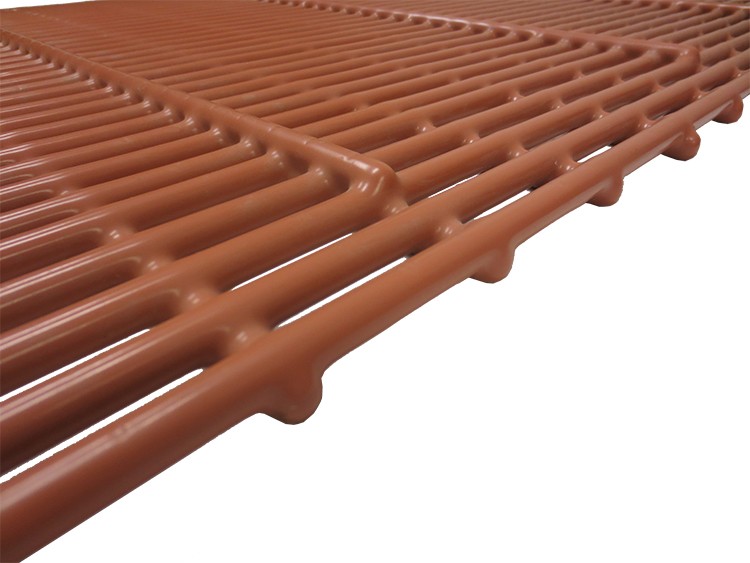 Traction Bars on a Standard Welded Rod Sow Section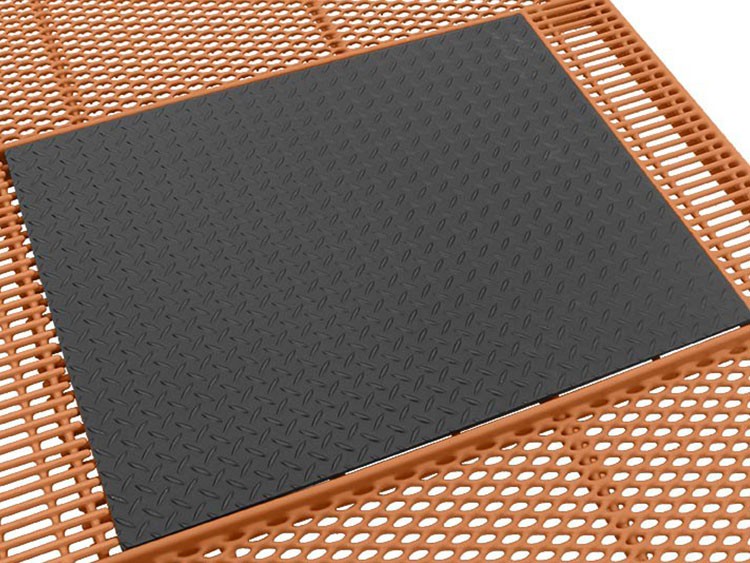 Dura Saver Feed Saver easily bolts onto the basic unit.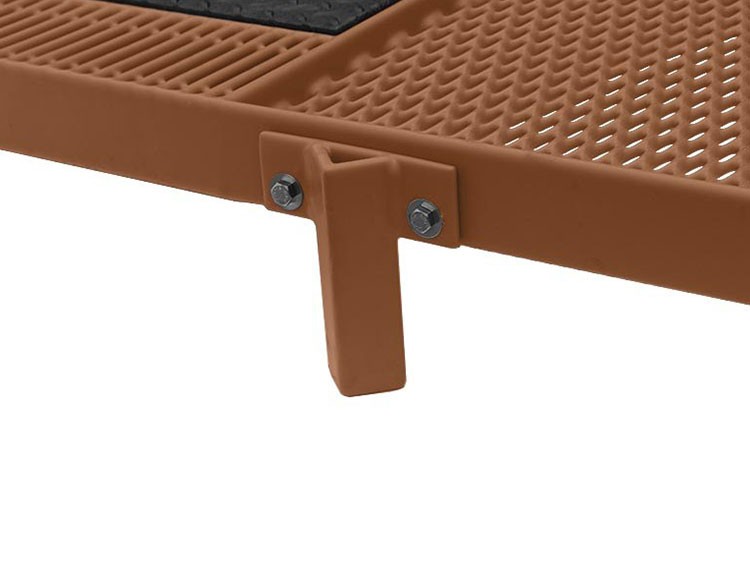 Optional Clearspan Farrow Legs – coated with poly-vinyl
Creep Side Floors with Clearspan Support
The Dura Trac Clearspan Creep Side with a cast-iron center comes completely self-supported. Furthermore, the durable cast iron center keeps the sow cooler and more comfortable. Convenient options are also available to customize the floor to your needs. Such options include a heat plate, notches, pad positioners, solid plates, mounting tabs, and feet.
Customized Flooring Design
Below is a picture of a farrowing barn during construction. In this instance, the creep sides have a custom area for the customer's heat mat. The area is dropped down slightly less than flush. As a result, the piglets will have easy access to the heat mat while minimizing the sow's ability to kick it.
All Dura Trac flooring is custom built to meet your requirements. However, we do have standard designs available.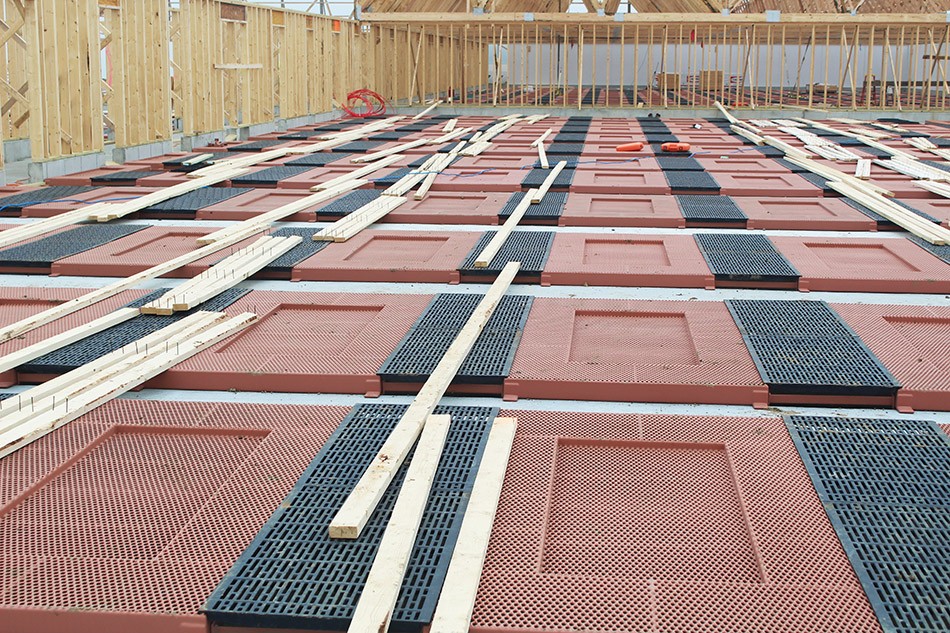 Original Farrowing Floors
Our Dura Trac Original Farrowing flooring is made to use with your supports. It works great for not just new building, but also for replacement flooring. Likewise, custom options such as perimeter rod, notching, and holes are available to fit your needs. When desired, a Dura Saver feed saver bolts on easily from the top.
Healthy sows and increased weaning weights mean a larger profit.
Plastisol Coated Hot Water Heat Plate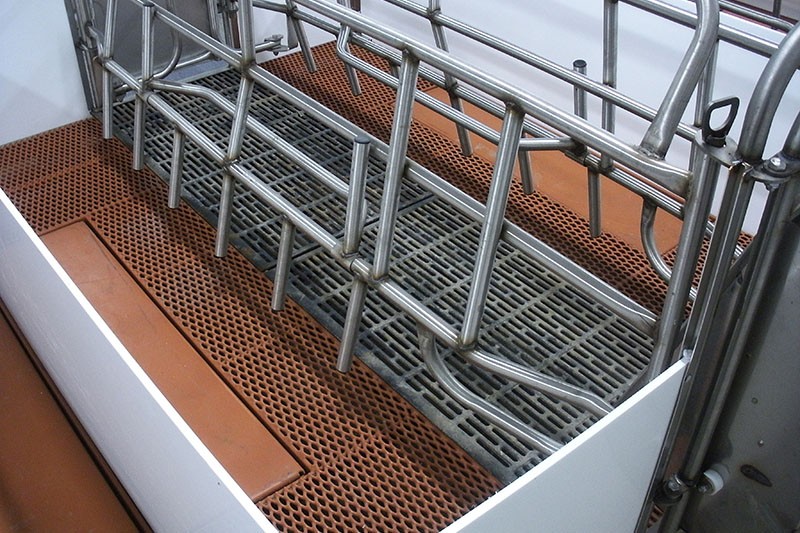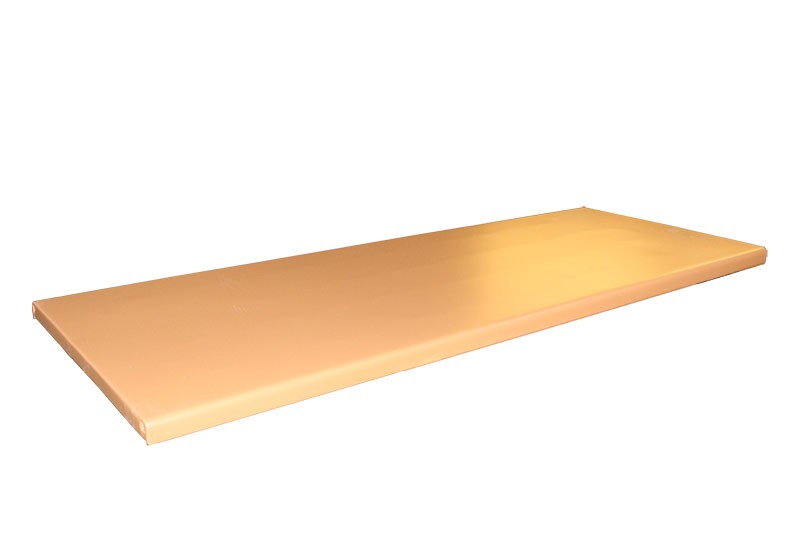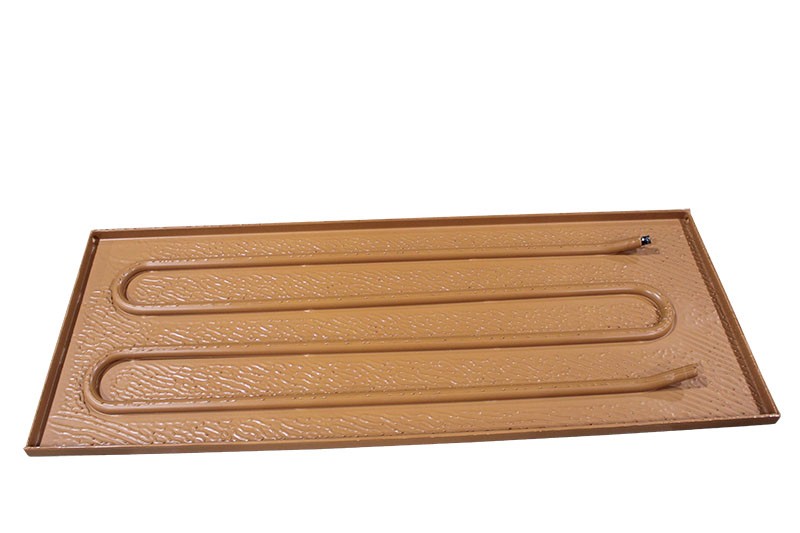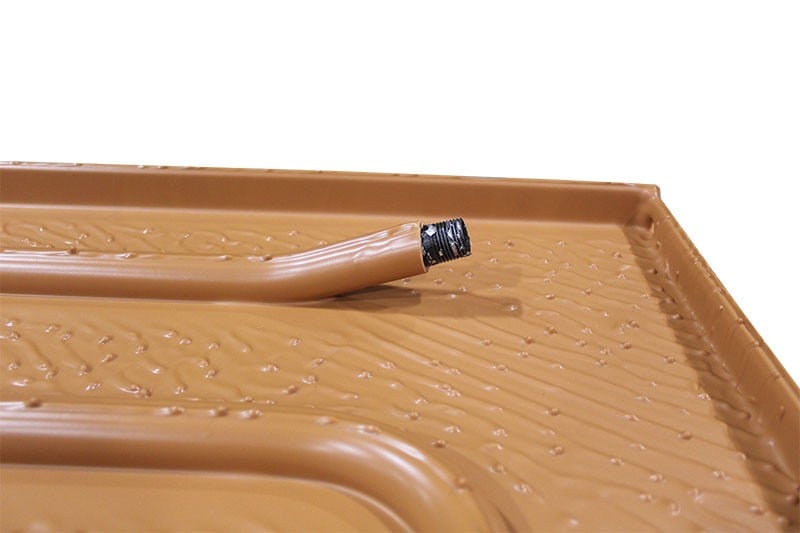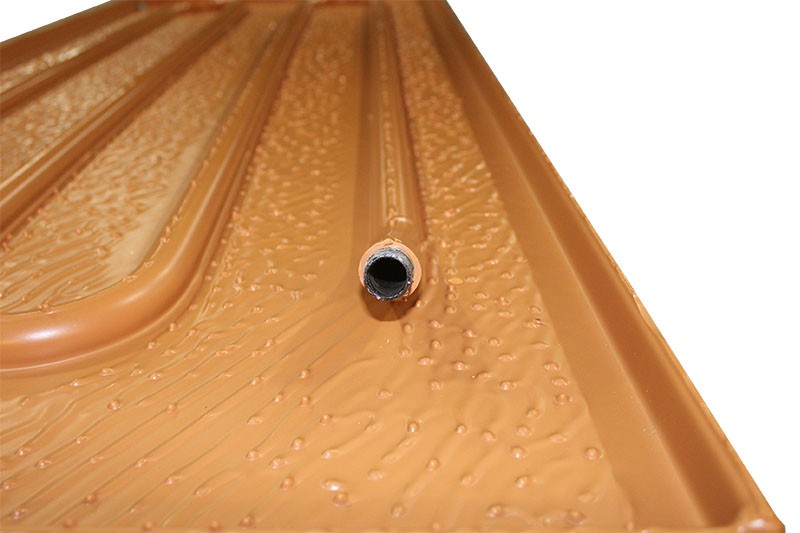 The Dura Trac Hot Water Heat Plate is used in the creep area. Consequently, the piglets stay warm with very uniform heat. It is flush mounted for more durability. Standard sizes are 1′ x 4′ and 2′ x 4′. Also, they may be custom manufactured to other sizes and for other installations.
Dura Trac Farrowing Floor Accessories
Learn more about the advantages of Dura Trac Farrowing Floors and how they will work to your benefit!
Call us today or find out more by clicking the link below.
Contact Us
TALK TO SALES NOW
800-533-6033
I have been working with ADA Enterprises since the mid to late 80s. At Compart Family Farms we use Dura Trac creep sides with cast iron centers for the sow and haven't seen any wear on the flooring. Therefore, we replaced solid rubber mats with the Dura Trac Solid Plate option in our creep areas. This works really well. No bacteria gets underneath and it lasts much longer than the rubber mats. In addition, there haven't been any issues from a clean-up standpoint. Galvanized triangular rod flooring may clean easier, however, sows are injuring themselves and the baby pigs are cold. We have built a lot of farms and we keep putting in Dura Trac flooring. You don't keep buying what you don't like.
From a loyal Dura Trac Flooring customer:
Kelly Farms has 1500 sows and has had Dura Trac flooring from ADA Enterprises under the creep areas in our farrowing crates for 21 years. We found your flooring to be simple and quick to install and have been more than satisfied with its strength and durability. There has never been a need to worry about flooring collapse or failure. We have found your flooring to be easy to clean, easy to inspect for cleanliness and gentle on the piglets. Healthy growth in our piglets has been aided by never having a problem with traction while nursing, nor loss of body temp to the plastic coated steel flooring that can occur in other types of flooring.
We have two types of flooring for our weaned pigs up to 70 pounds. We have Dura Trac flooring from ADA Enterprises and we have a clip together type of molded plastic flooring. The weaned pigs on the Dura Trac flooring consistently do better than the others. The difference, we believe, is the ability to more thoroughly clean the flooring from ADA. This flooring is also 21 years old.
Ready To Order?
To begin with, cleaning is easy because modern cleaning methods can be used.
In addition, the coated raised flooring aids in traction, which in turn reduces floor related injuries
Plus, there is no exposed metal so that rust and corrosion won't be a problem.
Furthermore, Dura Trac floors are extremely durable in addition to keeping the pigs comfortable.
Stress is reduced because animals are warm, dry, and comfortable.
Lastly, our products are built with prime steel. In addition, a thick coating of plastisol covers the entire floor.
TALK TO SALES NOW
800-533-6033