Dura-Trac Flooring & Dura-Bilt Pork Lift Swine Products: The Best Products To Help Our Customer Improve Profitability!
Whether you are a swine farrowing, swine nursery or any other type of business that relies on the health and safety of your animals, you've come to the right place! ADA Enterprises has been manufacturing plastisol (poly-vinyl) coated metal products and contributing to the success of our customers since 1974.
We offer a variety of top quality and time-tested products including Dura Trac Clearspan and Dura Trac Original nursery and farrowing floors and Dura-Bilt Pork Lifts. Whether for farrowing or nursery, each has their own benefits.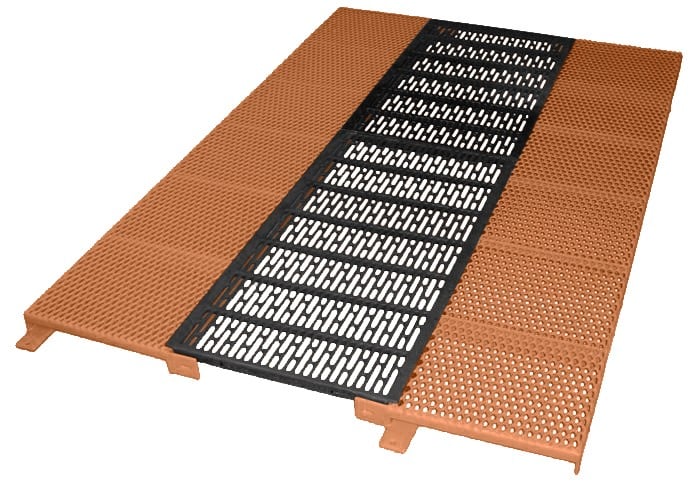 Swine Products to Increase your Bottom Line
Dura-Trac Swine Flooring systems are manufactured to customer specifications and custom built to the exact size required making installation a breeze. Additionally, they use a mesh design which allows for easy cleaning, virtually eliminating bacteria buildup by clearing the path for most of the fecal matter to fall through to the floor below.
Best of all, these flooring systems are specifically designed to keep your animals warm, dry and comfortable. These environmental conditions reduce animal stress, promote animal health, increase weaning weights and ultimately increase the profitability of your business.
Made of a structurally sound steel product, they are 100% covered in our proprietary poly-vinyl coating that prevents rust. Our basic farrowing unit design consists of a Clearspan farrowing floor with removable Dura-Trac welded rod sow section and Dura-Saver feed saver. Additionally, Dura-Trac Original style flooring, using your existing supports, is great for both new construction and replacement floors for your farrowing and nursery barns.
Dura Trac Clearspan Creep Side flooring will keep piglets warm and dry while a durable cast iron center keeps the sow cooler and more comfortable. Convenient options are available to modify the Clearspan Creep Side floor to meet your needs and size requirements, including heat plates, solid plates, and mounting tabs to name a few.
Finally, the Dura-Bilt Port Lift provides benefits to you by increasing your operational safety and profitability through the reduction of lost time injury risks and higher employee morale. The cost of these economically priced units can easily be offset by eliminating just one back injury.
These heavy-duty powder-coated units are constructed from steel, designed for long life and are easy to maneuver with industrial swivel casters. And for less than perfect surface areas, the foam filled flat- proof wheels keep you up and running.
Learn more about the ADA Enterprise Advantage, each of these systems and how they work together to your benefit! Call us today or find out more at one of the links below.
Ready To Order?
Easily allows for modern cleaning methods
Resists rust and corrosion
Not only durable, but also comfortable
Reduces stress on the animal
Built with prime steel and completely covered with a thick coating of poly-vinyl
TALK TO SALES NOW
800-533-6033